The chemistry curriculum for undergraduate students in our department comprises of lectures, seminars, experiments/computer trainings, and special research (for graduation).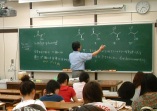 Lectures are designed for students to learn the basics of chemistry throughly and the subjects cover the following basic fields in chemistry: physical chemistry, inorganic chemistry, organic chemistry, biological chemistry, and analytical chemistry. Each field offers six to ten required subjects, as well as optional subjects which include the lectures provided by teachers from other universities. Students are encouraged to take as many subjects as they can in order to aquire basic knowledge widely.
Research will require knowledge beyond that of chemistry. Basic knowledge of mathematics, physics, biology, and earth sciences is essential. Therefore we also encourage students to take the lectures across the disciplines.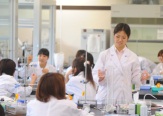 In the curriculum, we especially focus on experiments during the first three years. Starting with Fundamental Chemical Experiments I in the 1st year, students take Fundamental Chemical Experiments II – IV in the 2nd year and Advanced Chemical Experiments I, II. Throughout those experiments, they will understand various principles of chemistry, sucn as inorganic chemistry, analytical chemistry, organic chemistry, physical chemistry, and biological chemistry. They will also study research methods.
In the classes, students have ample time to carry out experiments. In addition, the curriculum provides training using computers. Through theses classes, students get the knowledge not only from lectures, but also practice.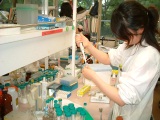 In the last year of the undergraduate course in our department, students carry out special graduation research. Under the instructor, each student mekes her own reserch plan for the given subject and performs the research. They conduct the research in their instructorsf laboratories. Here, they can learn how to advance the research and know the practical application to real life.
Before graduation, each student presents a report of her research in front of the department, including teachers and students in the undergraduate and graduate courses.


@@⇒Chemistry Curriculum in the Department of Chemistry(in Japanese)